Double
Standalone and complete model with stainless steel on the sides that are ready to be put in place and connected.<br/>
Size (LxWxH mm): 1800x900x900 Weight 220kg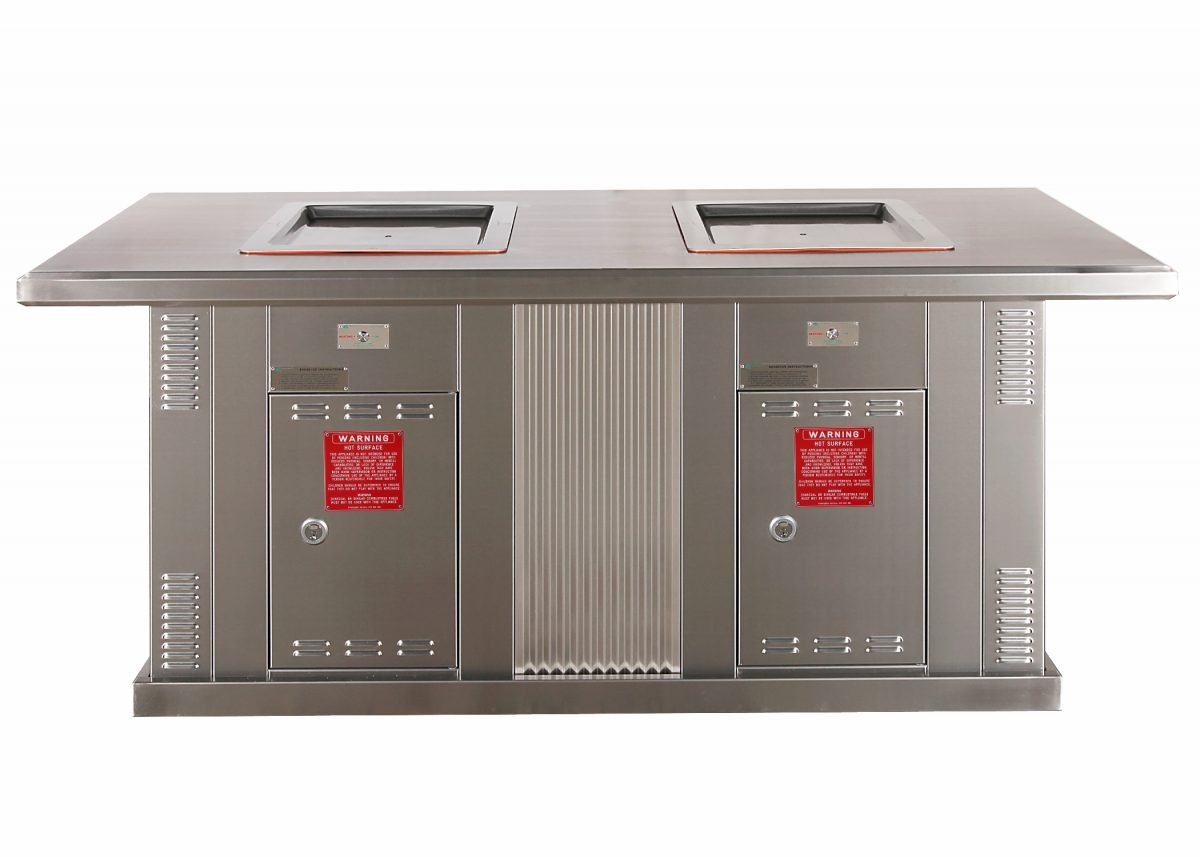 Standalone and complete model with stainless steel on the sides that are ready to be put in place and connected.
The model with dual heating elements, bench tops and stainless steel cabinet is a good solution for parks, outdoor and recreational areas. Size (LxWxH mm): 1800x900x900 Weight 220kg
The barbecues are perfect for
Many other places where you want to grill outdoors in a clean, easy and safe way.
Quality
All our barbecue products are made of high quality stainless steel to withstand many barbecues while maintaining their appearance.
Advantages of the grills
No smoke that irritate others.

No trash after disposable barbecues.

Coal, briquettes or wood are not necessary.

No fire risk with poorly handled disposable barbecues
Technical information
Greenplate 300® is a patented electric barbecue using only 1800 watts for an hour of barbecue. The heating cables in the unit distributes heat efficiently and evenly across the cooking surface and retains perfect heat during the entire cooking time. The unique encapsulated four-layer ceramik insulation ensures that heat is forced up against the barbecue surface which improves performance even more. The device is controlled through specially developed high-tech components which if necessary can be reset by the user. The fully stainless heating element Greenplate 300® is designed to easily fit into self-designed benches if the complete standalone models are not selected. If you are looking for a barbecue that is simple, safe, reliable, sustainable, functions properly, energy efficient, easy to install and to maintain then this barbecue is the obvious choice.
Properties
Cooking surface of high quality stainless steel that is pressed in a single pressing without joints and can withstand high heat power 1800W

Fuse 10 A (1.8 kW @ 7.8 amps)

Temperature cooking surface 320C (adjustable)

Standard switched-on time 28 minutes (adjustable)

LED indicator for start and stop button with sound 1 beep on startup and 3 bip at the end

Child safety setting, press the button for six seconds to start (setting)

Over- and under-voltage protection with user reset by pressing a button

"Quick Release"/installation clamps for easy removal and refitting the barbecue

Containers and heat-resistant waste bag for easy and quick cleaning

Two-year material warranty